Newfound Sushi
Establishment and food at 117 Broadway, Corner Brook, NL A2H 5B6, Canada. Here you will find detailed information about Newfound Sushi: address, phone, fax, opening hours, customer reviews, photos, directions and more.
Opening hours
Tuesday
11:00am — 02:30pm
04:00pm — 09:00pm

Wednesday
11:00am — 02:30pm
04:00pm — 09:00pm

Thursday
11:00am — 02:30pm
04:00pm — 09:00pm

Friday
11:00am — 02:30pm
04:00pm — 10:00pm

Saturday
11:00am — 02:30pm
04:00pm — 10:00pm

Rating
2.5 /5
Based on 2 reviews
Photos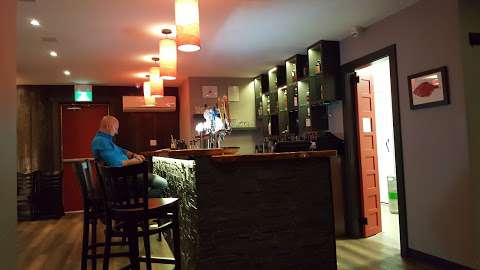 Reviews of Newfound Sushi
Ted Haney Added 2018-06-14

★ ★ ★ ★ ☆

This is pretty good sushi in a city where you would not expect to find this. The fish was not as totally fresh feeling and tasting as I would have expected. The portion sizes are moderate. They do have tasty vegetarian options. Reservations are required during the tourist season.

pyswan Added 2017-12-12

★ ☆ ☆ ☆ ☆

Usually my favorite spot in CB, but just tried to go there for lunch today and had a very unpleasant experience and had to walk out without ordering. First, we walked in to the main floor dining room, we were asked if we were dining in or taking out and informed diners were helped upstairs. After we found the upstairs completely packed except for few seats at the bar, we decided to take out and went back downstairs... To which we were told to go back upstairs to place the order because there were no servers downstairs. Back upstairs. There were two servers attempting to manage the packed bar and we had little attention actually focused on us. When we told them we wanted to place a takeout order, we were told that they would have to 'check with the chef if they do takeout' and both scrambled to call downstairs even after we said the chef had sent us up. No one ever gave us a menu to look at. Then when one server gave us enough of her attention to punch in an order, we told her we didn't even have a menu to which she said they didn't have takeout menu and didn't offer a regular menu nor explained what we could take out.
Frustrated with the lack of service, we left without ordering. This is extremely disappointing since I am rarely in cornerbrook and even more rarely am able to convince my husband to go for sushi. Then when I did get to go, no one wanted to help us. :( they used to offer prepared takeout for lunches,not sure why this stopped.
About newfoundsushi.com
Newfound Sushi ‹
It is Newfound Sushi's mission: To provide only the freshest and highest quality local seafood ingredients that make the most delicious meals, and to create a great customer experience and provide a high level of service.
sushi, japanese food, japanese cuisine, restaurant, nigiri, sashimi, Corner Brook, Newfoundland, West Coast, unagi, maki, salmon, tuna, albacore, calimari, miso, tobikko, panko, massago